NEW FEET THAT ARE A CLOSE MATCH TO ORIGINAL FEET FOR VARIOUS RIGS

---
New feet are now available for the HW-101, SB-101, etc., and these feet possibly fit other Heathkits and other brands of equipment. The picture below illustrates these feet.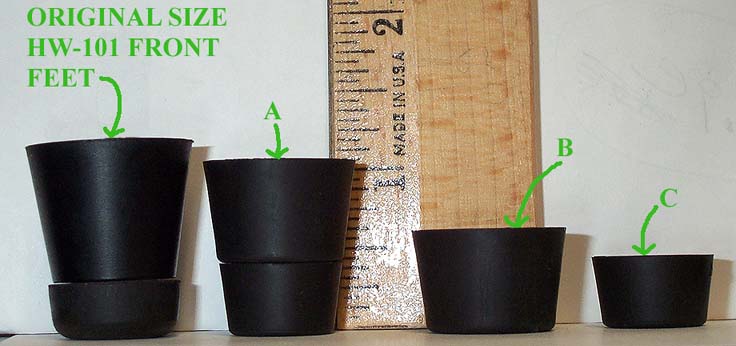 The foot on the left side is an original HW-101 front foot (includes the plastic spacer and the rubber foot). Total height is about 1 3/16". The new replacement foot (A) is a combination of feet (B) and (C), and is slightly shorter than the original, at about 1 1/16". Type (B) will take a #8 screw or smaller, and type (C) will take a #6 screw or smaller. Of course, the type (A) foot will also take a #6 screw, which is what the HW-101 uses. (#6 is smaller than a #8 screw)
So, see the Hardware page to order individual feet. Order (A) for new front feet replacements, order (C) for new back feet replacements, or order four (B) or (C) feet for a "level" look. For a full set with hardware order from the Kits page.
---
Contents copyright 2006-2015 OldHeathkitParts - K8GNZ